Travel Advisory
Updates on the latest travel advisories
Travel Risk Management & Crisis Response
Risk Alert: High – South America / Venezuela
Greg Pearson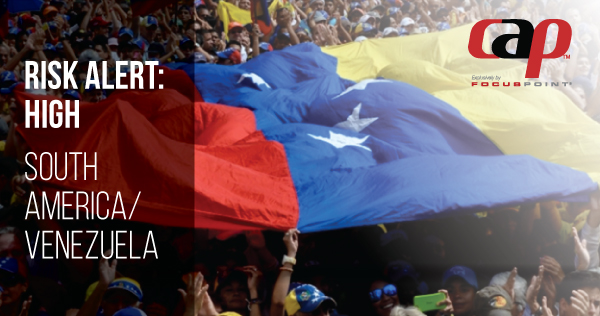 FocusPoint International has been reporting on events in Venezuela for our CAP™ members for some time now. In light of recent developments, we are circulating our latest information to clients for review and possible action.
FPI sources indicate that there currently is a high level of risk to personal safety and security in Caracas and elsewhere in Venezuela, as tensions have increased across the country as a result of the ongoing political crisis and anti-government protests. As of January 28, Venezuelan President Nicolas Maduro has rebuffed calls to hold new elections amid growing international pressure, after the governments of Britain, France, Germany, and Spain, issued an ultimatum on January 26 to the hold elections within eight days to determine the country's leadership.
On January 24, the U.S. State Department ordered all non-emergency U.S. government staff and family members out of Venezuela, and strongly advised that U.S. citizens residing or traveling in the country consider departing. This followed Maduro's initial announcement that American diplomatic and consular officials had 72 hours to the leave the country, in response to U.S. President Donald Trump's recognition of Juan Guaido, leader of the opposition-controlled National Assembly, as Venezuela's interim president. Juan Guaido declared himself President of Venezuela before a crowd of supporters in Caracas on January 23. He subsequently left for an undisclosed location and is presumed to be in hiding. He has called for new elections, for the military to support him, and for Maduro to step down. At least 20 other countries have recognized Guaido as the interim president, including the United Kingdom, Canada, Brazil, Argentina, Colombia, and Peru. Although the Venezuelan government has since rescinded their order expelling American diplomats from the country, the U.S. government has limited ability to provide emergency services to U.S. citizens in Venezuela. Moreover, various Venezuelan military commanders still express their support for Maduro.
In the meantime, opposition-led demonstrations have occurred in Caracas and other urban areas of Venezuela, and are expected to continue. According to local media reports, at least 29 people have been killed nationwide, with more than 175 detained, in protests and related violence since January 22. Security forces have used tear gas and rubber bullets to disperse such gatherings. As of January 25, some looting of supermarkets and stores in Caracas, as well as internet and other communications disruptions, has also been reported. Shortages of food, electricity, water, medicine, and medical supplies are present throughout much of the country. Due to the heightened security environment, further clashes between security forces and protesters are likely, especially if Guaido and the opposition call for a sustained protest campaign.
It is advised to reconsider all inbound travel to Venezuela. In-country residents and travelers should remain vigilant, stay informed of the situation, limit all non-essential movement, and consider their departure options.
If you or your organization is being affected or could become impacted by events in Venezuela, please contact FocusPoint at: +1 619-717-8549 or [email protected]. As a leading crisis response firm, FocusPoint has highly-experienced, multilingual capabilities on the ground, anchored in the communities, and prepared to support you at a moment's notice—regardless of location. Our specialized risk management, business resiliency, and crisis response solutions include:
Residential Security Teams
Safe Havens and Shelter-in-Place
Controlled Movement and Secure Transportation
Evacuation Services – Overland and Air
Our 24/7 medical, security support, and evacuation services are available to assist you now. For help with any questions, concerns, or situations, contact us at: +1 619-717-8549 or [email protected].
Author: Lee Sharon