Travel Advisory
Updates on the latest travel advisories
Travel Risk Management & Crisis Response
FocusPoint's message for travelers impacted by the Haiti Travel Advisory
Greg Pearson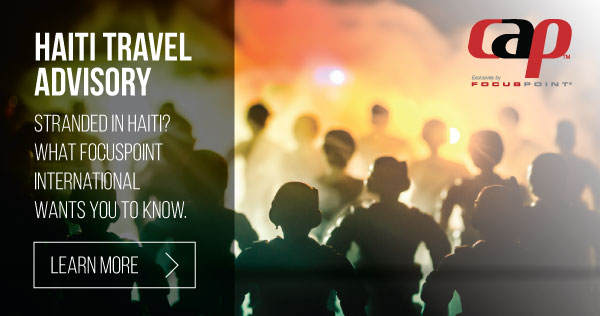 Are you or a loved one stranded in Haiti? Here's what FocusPoint International wants you to know:
FocusPoint has a Crisis Assistance Team (CAT) on the ground in Haiti.
Clients and potential clients are advised to shelter-in-place until further advised. Ground travel in and around Port au Prince and elsewhere is not advisable due to civil unrest, ad hoc roadblocks by police/military and protestors, accompanied with violence towards persons riding in motor vehicles.
FocusPoint Crisis Assistance Center is tracking clients and potential clients. Their positions are mapped along with specific geo-coordinates as well as their current status.
Evacuation at this point is not an option because roads into and out of PAP International Airport are attempting to be closed by violent demonstrators.
FocusPoint personnel, both in the CRC and on the ground, are working to identify further options.
Our CRC is remaining in contact with all clients/potential clients by twice daily check-ins.
Anybody needing assistance should contact our Crisis Response Center at +1 619 717 8549 (24/7).