FocusPoint Insights
See what's trending: FocusPoint Insights
Travel Risk Management & Crisis Response
Three Things to Consider When Travelling to a Country with Heightened Security Levels
Lisa Arredondo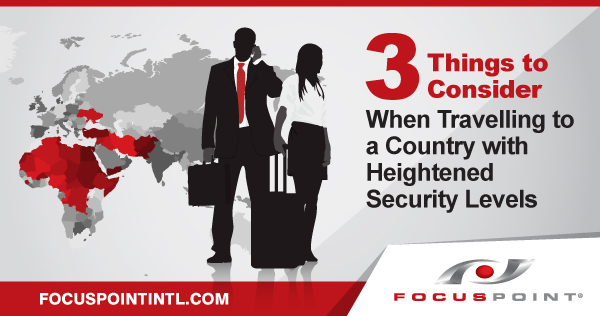 Since the events of September 11, 2001, the way we travel for business and leisure has forever changed. The reality is that we now seamlessly factor into our daily lives and global economy the risk of terrorism and criminal activity, particularly when it comes to travel. Specific areas of the world can be more dangerous than others. If you find yourself traveling to an area where there are heightened security levels, you need to be aware of what you could potentially experience, and know how to prepare and take into consideration the following three points.
Know Before You Go
Before you go, research your destination to get some insight into the social and political landscape. The first step is to review the destination's report that your company or TRM service has provided you. You should also check in with the US State Department and your company's security and risk department. Talk to colleagues that have been there to find out what their experience was. Knowing the environment you are traveling to will help you make the right decisions protecting yourself.
Plan, Communicate, Breadcrumb
When traveling to high-risk destinations, developing a detailed plan will help highlight potential pitfalls or heightened risks to your trip. Have pre-arranged car services, hotels, meetings/locations, and if necessary executive protection secured and confirmed before departure. Once that has been established, make sure to communicate it to family/friends, your security department, your TRM provider, and even the US State Department STEP program. Ensure you check-in frequently – essentially breadcrumb your activity and locations to your company and trusted family/friends. Avoid posting your activities on social media, as this can provide your location, and make you prey to potential wrongdoers.
Ensure You Have a Comprehensive Travel Risk Management Program
Understand that there are risks associated to both domestic and international travel and ensure you have a program that will warrant your safety. In high-risk areas, make sure you or your company have comprehensive security, terrorism or evacuation insurance in case you need to get out of the country, prior to traveling. Discovering that your plan does not cover these risks while you are in the midst of a crisis, can potentially lead to a harmful and expensive outcome.