Business Travel
See what's trending in the world of business travel
Travel Risk Management & Crisis Response
What should a 'best in class' duty of care program include?
Greg Pearson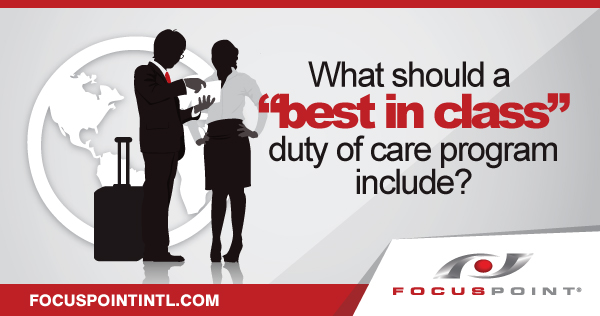 There are several key components to a best in class duty of care program.
Policy – A documented travel risk management policy should be up to date, readily available to travelers, communicated effectively and ideally signed off on by each traveler. Most importantly, your policy should be consistently enforced to avoid unnecessary liability.
Pre-Trip Intelligence – Every traveler should receive a pre-trip email or package outlining the current risk profile of the countries being visited, the latest alerts, destination information, visa/passport requirements, emergency contacts, etc. Also, it is a good idea to have the traveler electronically acknowledge that they have read the pre-trip information for audit purposes.
Real-Time Alerts – 24/7 real-time alerts sent to travelers via email or SMS regarding incidents that have the potential to impact their safety or security. It is equally important is that both the corporate travel manager and TMC immediately receive a summary of any travelers affected by an alert.
Travel Tracking – For many years, travel tracking has been where most companies have placed their time and investment, using traditional itinerary tracking as their primary tool, however as technology continues to evolve, it is being replaced with mobile geo-tracking. Although it is more accurate, it is only effective when the phone is turned on, and it can become costly with roaming charges. However, new satellite technology will soon provide flat rates with affordable monitoring in the near future.
Assistance – In our experience, this is the most underserved area of duty of care. This is the real moment of truth – when your employees are affected by an incident, how will you as a corporation respond.
Best in class businesses provide their travelers with 24/7 access to a crisis response center where they can get immediate advice, the latest intelligence on a situation and receive direction on what to do next. Additionally, they have resources available in country to assist and support travelers whether that is sheltering them in place, safe transport or evacuation home. A well-executed assistance response, when a traveler is in need, becomes truly priceless.